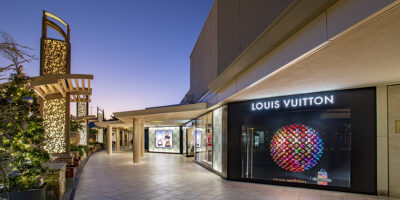 Waterside Shops is a luxury shopping destination located in Naples, Florida. This open-air mall features over 60 high-end stores and restaurants, making it a must-visit for anyone who loves to shop, dine, or simply enjoy the beautiful surroundings.
The open-air mall is situated near the Gulf of Mexico, just down the street from Clam Pass Beach. The location is centrally located between North Naples and downtown Naples. There is plenty of parking surrounding the mall and an indoor garage near Saks Fifth Avenue. Convenient valet parking is location on the east side, close to many of the restaurants. The architecture of the mall is inspired by the tropics, with fountains, palm trees, and outdoor seating areas. It's a truly unique and charming atmosphere that sets it apart from other shopping destinations.
Shoppers will find a wide variety of luxury brands, including Hermes, Gucci, Louis Vuitton, and Tiffany & Co. There are also plenty of options for fashion, beauty, and home decor, such as Anthropologie, Lululemon, and Pottery Barn. You will also find high-end jewelers like Rolex and Van Cleef & Arpels.
Foodies will appreciate the variety of dining options, from casual to upscale. Brio Tuscan Grille, Brick Top, and True Food Kitchen are just a few of the popular restaurants. There are also several cafes and bakeries.
In addition to shopping and dining, Waterside Shops hosts a variety of events throughout the year. From fashion shows to charity fundraisers, there's always something happening at this open-air mall. Waterside is a great place for an early morning powerwalk. Get some exercise in while being invigorated with the sounds of the fountains throughout the mall.
Overall, Waterside Shops is a must-visit destination for anyone who loves luxury shopping, fine dining, and beautiful surroundings. It's a great place to spend a day exploring and indulging in the finer things in life.
For more information on Waterside Shops, click here.
For more information on other shopping in Naples, click here.