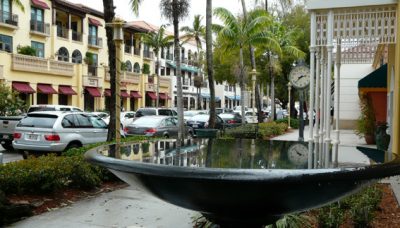 The 5th Avenue District in Old Naples is one of the most walkable areas in Naples. Amid the one mile stretch of 5th Avenue, there are cafes, bars, award winning restaurants, boutiques, world-class art galleries, banks, investment companies and entertainment. Surrounding 5th Avenue are parks, schools, and the magnificent beach on the Gulf of Mexico. Old Florida style homes have been renovated over the years, either restoring them to their original splendor or replaced by grander homes. For residents not needing or wanting single-family home living, there are numerous options for maintenance free condo living in 2-story walk-ups, coach homes and a variety of other building types.
Most errands and day to day living, are easy for everyone from young children to retirees. They love walkable 5th Avenue Naples and most everything can be accomplished by walking or biking around the neighborhood. Real Estate in the area does come at a premium, as living in the 5th Avenue District and Old Naples area offers access to everything. In addition to walking and biking, many residents are seen getting around in street-legal golf carts. Street-legal carts are allowed on any street with a speed limit of 35 mph or less.
5th Avenue is also home to numerous festivals, car, craft, and art shows throughout the year. The advantage living close by, is not having to worry about parking. Just a block from 5th Avenue is Cambier Park which offers a Tennis Center, Bocce Courts, Basketball, Shuffleboard, Community Center, Softball field, a covered pavilion with continuous programming and one of the best children's playgrounds in Collier County. For art lovers, don't forget to check out the von Liebig Art Center.
If you are interested in learning more about the 5th Avenue / Old Naples area and would like to receive a report on current listings, contact me at 239-404-4222.