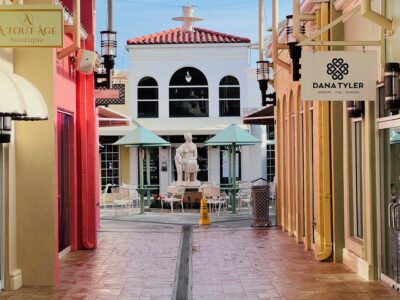 The Village Shops on Venetian Bay is a charming village in Naples, Florida, is a unique destination for locals and tourists alike, offering a diverse range of boutique shopping and waterfront dining experiences. The shops and restaurants are located on both sides of the Village, separated by Park Shore Drive. Easy access through the pedestrian walkway lets you safely get from one side to the other.
One of the most distinctive features of the village shops is the waterfront location. Visitors can stroll along the boardwalk overlooking the bay and take in the stunning views while browsing the various shops. From high-end fashion boutiques to artisanal gift shops, there is something for everyone. Although local residents along Gulf Shore Blvd can walk to Venetian Village, there is ample parking.
For fashion lovers, the village shops offer a variety of upscale clothing and accessory stores. The elegant resort wear at Marissa Collections is perfect for a day on the beach, while the designer labels at Wildflower Boutique are perfect for a night out on the town. The boutiques also offer a variety of jewelry and accessory options to complete any outfit.
Foodies will also find plenty to love at the village shops. The bayfront restaurants offer stunning views and delicious cuisine. From seafood and classic American fare, to upscale elegant dining or an after-dinner sweet treat, Venetian Village has extensive choices.
In addition to shopping and dining, the village shops also host a variety of events throughout the year. From outdoor concerts to holiday celebrations, there is always something going on in this vibrant community. The annual boat parade is a highlight of the holiday season, with festively decorated boats cruising along the canals.
Overall, the village shops on Venetian Bay are a must-visit destination for anyone looking for a unique shopping and dining experience in Naples. The combination of upscale boutiques, waterfront views, and community events make it a special place that is sure to delight visitors of all ages. If you would like more information on the Village Shops on Venetian Bay, click here.