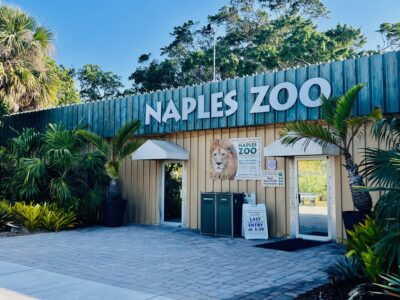 There are so many wonderful things to do in Naples – the beaches, golf, parks, bird watching, water parks, and the list goes on. The Naples Zoo is at the top of that list, especially for Collier County Residents. On the first Saturday of each month, entrance into the Naples Zoo is completely free for residents, they just have to show proof of residency.
The Naples Zoo at Caribbean Gardens, located in Naples, Florida, is a popular destination for families and animal lovers alike. Originally founded in 1919 as a botanical garden by Dr. Henry Nehrling, the zoo has evolved into a 43-acre facility that is home to over 70 different species of animals. In 1954, Julius Fleischmann opened Caribbean Gardens and opened it up to the public. In 1969, Colonel Lawrence and Nancy Tetzlaff, known as Jungle Larry and Safari Jane, brought in a wide variety of animals from around the world.
One of the unique features of the Naples Zoo is its focus on conservation and education. The zoo works closely with various conservation organizations to promote the protection of endangered species and their habitats. Visitors can learn about conservation efforts through zoo exhibits and educational programs.
The zoo is also home to a variety of animals from around the world. Visitors can see everything from alligators and panthers to giraffes and zebras. One of the most popular exhibits is the primate exhibit, which features a variety of monkey and ape species.
In addition to animal exhibits, the Naples Zoo offers a range of activities for visitors. The Safari Canyon open-air theater offers daily animal shows, and the Primate Expedition Cruise takes visitors on a boat tour of the zoo's primate islands. If you would like an up close and personal experience with a Giraffe, for a small fee, you can hand feed these majestic creatures.
The Naples Zoo is committed to sustainability and has taken steps to reduce its environmental impact. The zoo has implemented a recycling program and has installed solar panels to help power the facility. Visitors are encouraged to bring reusable water bottles and use the zoo's water refill stations.
Overall, the Naples Zoo is a great destination for families and animal lovers. With its focus on conservation, education, and sustainability, the zoo offers a unique and enjoyable experience for visitors of all ages.