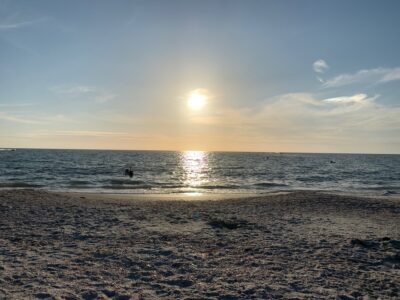 Naples Beaches
Naples, Florida is a popular destination for those seeking sun, sand, and relaxation. The city boasts some of the most beautiful Naples beaches in the world, each with its own unique charm and features.
Delnor Wiggins Pass Beach State Park
One of the most popular beaches in Naples is Delnor-Wiggins Pass State Park. This beach is located on a barrier island and offers visitors the chance to swim, fish, and sunbathe. The park also features picnic areas, nature trails, and a playground for children.
Vanderbilt Beach
Another popular option is Vanderbilt Beach, which is a long, wide stretch of white sand that is perfect for sunbathing and swimming. The beach also has several restaurants and bars nearby, making it a convenient spot for grabbing a bite to eat or a refreshing drink. There is plenty of parking in the multi-story garage just a block away. If you do not feel like lugging your chairs and umbrellas, contact Cabana Dan's to set up your chairs and umbrellas before you get there. @cabanadans
Clam Pass
For those looking for a quieter, more secluded experience, Clam Pass Park is an excellent choice. This beach is only accessible by a boardwalk that winds ¾ of a mile through a mangrove forest, giving visitors a chance to see some of Florida's unique wildlife. There is a free tram that can also take you from the parking lot to the beach. Once at the beach, visitors can enjoy the calm waters and pristine sand, restrooms and a beach restaurant.
Lowdermilk Park Beach
If you're interested in water sports, Lowdermilk Park Beach is the place to be. This beach is known for its calm waters, making it a great spot for kayaking, paddleboarding, and other water-based activities. There is ample parking, gazebos which can be rented out, and a concession stand. The beach also has a playground and picnic areas, making it perfect for families with young children.
Naples Pier Beach
Finally, for those seeking the authentic Naples beach experience, the Naples Pier Beach is a must-visit. This beach is located near some of the city's most prestigious hotels and resorts and features stunning views of the Gulf of Mexico. Visitors can enjoy swimming, sunbathing, fishing off of the pier, or simply strolling along the pier and taking in the scenery.
Overall, Naples, Florida is a beach-lover's paradise, with something to offer for everyone. Whether you're looking for a bustling beach with lots of amenities or a secluded spot to get away from it all, you're sure to find it in Naples.
City and County Links
City of Naples Beach Info click here.
Collier County Beach Info clicker here.
For a list of beaches in Southwest Florida, click here.