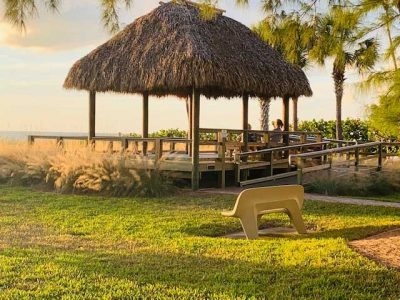 The Moorings community in the city of Naples, Florida, offers some very special benefits to the residents who live within its boundaries. The Moorings is comprised of over 700 acres between the Gulf of Mexico and US 41 and Binnacle Drive and Spring Line Drive. There are nearly 900 single-family homes and over 90 condominium and co-op buildings. Moorings condos for sale are rate because the Moorings is located close to high-end shops and numerous restaurants and cafes.
The Moorings Property Owners Association has a voluntary membership that allows access to the residents' private beach, with parking, chickee hut usage, access to park events and meetings, and news updates on topics affecting The Moorings neighborhood and the residents. The Moorings Beach Club is a spectacular oasis nestled between Gulf Shore Blvd and the powdery white sands of the Gulf of Mexico. With sprawling old trees, green grass, chickee huts, benches and paths, residents can watch the mesmerizing sunsets without getting sand in their shoes, if they choose. Membership parking and access are strictly enforced.
Many of the single-family homes echo the architecture of old Florida style; however, many of these homes have been purchased and razed to the ground to make room for impressive homes that accentuate the beauty of the neighborhood. The homes, condos, and co-ops on the bay side have beautiful views of Doctors Bay and Hurricane Harbor, and depending on the location, many have no-bridge access to the Gulf of Mexico. Those condos located on Gulf Shore Blvd have stunning views of the Gulf of Mexico as well as the eastern sunrise, depending on the location of the unit.
Co-ops still exist in The Moorings; they are usually self-governed and managed. Many of the once, strict rules, are now being relaxed to accommodate the changing world we live in. For more information about living in The Moorings and available residences, contact me, and I will be happy to assist.