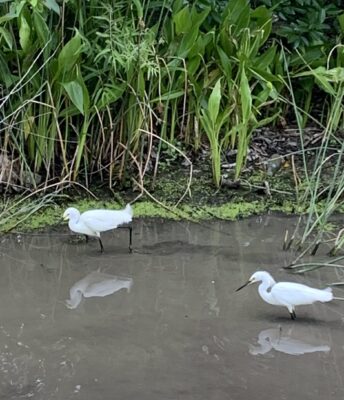 Naples, Florida is a bird watcher's paradise. With its diverse habitats and favorable climate, Naples is home to a large variety of birds, both resident and migratory. Birdwatching in Naples Florida is a year-round activity, with each season offering unique opportunities to observe different species.
Naples has a number of birding hotspots, such as the Corkscrew Swamp Sanctuary, the Rookery Bay National Estuarine Research Reserve, and the Naples Botanical Garden. These locations offer visitors a chance to see a wide range of birds in their natural habitats.
One of the most popular spots for birdwatching in Naples Florida is the Corkscrew Swamp Sanctuary, a 13,000-acre preserve that is home to over 200 bird species. Visitors can take a 2.25-mile boardwalk through the sanctuary and observe a wide variety of birds. The boardwalk offers the perfect vantage point to observe wood storks, limpkins, roseate spoonbills, wading birds, songbirds, and raptors. The sanctuary is also home to the largest nesting colony of wood storks in the United States as well as the largest old-growth bald cypress forest in North America, providing a unique and beautiful backdrop for birdwatching.
The Rookery Bay National Estuarine Research Reserve is another great location for birdwatching in Naples. This reserve is home to a variety of habitats, including mangrove forests, salt marshes, and seagrass beds, which support a diverse bird population. Visitors can explore the reserve by kayak or take a guided boat tour to see birds like ospreys, herons, and egrets.
The Naples Botanical Garden is also a popular spot for bird watchers. The garden's 170 acres include a variety of habitats, including a water garden, a Brazilian garden, and a Caribbean garden, which attract a wide range of birds. Visitors can take a guided birding tour or explore the garden on their own to spot birds like hummingbirds, warblers, tanagers, the endangered Florida scrub jay, and the colorful painted bunting.
Just a bit to the north is the J.N. "Ding" Darling National Wildlife Refuge. This refuge is located on Sanibel Island and spans 7,600 acres, offering bird watchers the chance to see over 245 bird species, including the American white pelican, roseate spoonbill, and reddish egret. Visitors can also expect to see over 50 types of reptiles and amphibians and 32 mammal species. explore the refuge by foot, bike, or car, and there are several guided tours available by tram or paddle boats.
In addition to these hotspots, there are many other locations around Naples that offer great bird-watching opportunities. The Naples Pier is a popular spot for watching shorebirds and seabirds, while the Naples Zoo at Caribbean Gardens features a bird exhibit that features over 100 species of birds from around the world.
One of the best things about bird watching in Naples is the variety of species that can be seen. From wading birds to raptors to songbirds, Naples has it all. Some of the most commonly spotted birds in the area include the great blue heron, the osprey, the white ibis, and the American kestrel.
Whether you are an experienced birder or a novice, bird watching in Naples is a delightful experience that should not be missed. With its beautiful scenery, diverse habitats, and abundant bird life, Naples is a must-visit destination for any bird watcher.
For more information on things to do in Naples, click here.
For more information about purchasing a home in Naples, contact me.