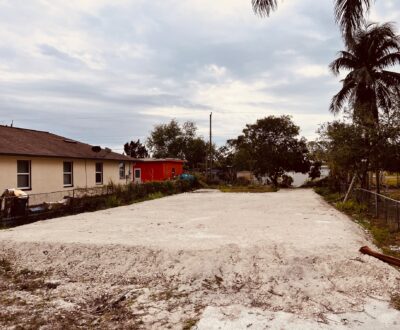 Looking for land for sale in Naples? This incredible lot located just south of Celebration Park, is currently only one of three available in the Bayshore Arts District in Naples, Florida. BAD is an up-and-coming neighborhood that has captured the attention of home builders and buyers alike. For those wanting a walkable neighborhood in the middle of galleries, entertainment, restaurants, shops, and breweries, this is the place for you.
The lot is prepped, and filled and is ready to build your home, vacation bungalow, or investment property. There is no HOA in this area and therefore no restrictions on how often you can rent your home out. This area is very pet friendly and all well-behaved dogs of all sizes are welcome.
The Bayshore Arts District is a vibrant and diverse neighborhood located in Naples, Florida that is quickly becoming one of the most desirable neighborhoods to live in. There are many benefits to calling Bayshore Arts District home, from its eclectic mix of art galleries, restaurants, and shops to its proximity to top-rated beaches and parks. Here are just a few reasons why living in Bayshore Arts District may be the perfect fit for you.
First and foremost, Bayshore Arts District is a hub for arts and culture. The neighborhood is home to numerous galleries, studios, and public art installations, making it a great place for artists and art enthusiasts alike. The neighborhood is home to a diverse population of people of all ages and backgrounds, creating a welcoming and inclusive community. Whether you're young or old, single or married, there's a place for you in Bayshore Arts District. Living in Bayshore Arts District means being part of a tight-knit community.
In addition to its vibrant arts scene, Bayshore Arts District also offers easy access to some of the most beautiful beaches in the country. The neighborhood is just a short drive from Naples' world-famous beaches, including Naples Pier Beach, Lowdermilk Park Beach, Vanderbilt Beach, and Clam Pass Park. And for those who prefer a more active lifestyle, Bayshore Arts District is also located near several great parks, including Sugden Regional Park and East Naples Community Park – the home of the US Open Pickleball Championships. Just down the street is the award-winning Naples Botanical Garden, a 170-acre world-class garden paradise with plants from all over the world.
Don't miss the exciting opportunity to create a one-of-a-kind living space in a thriving community. To see the listing for this land for sale in Naples click here.