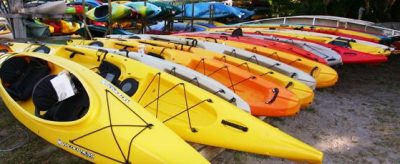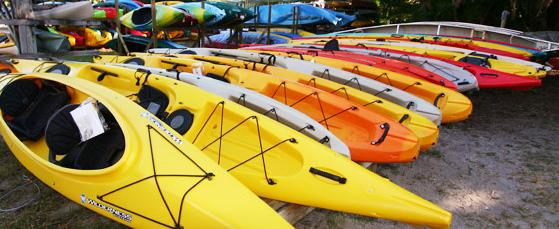 Splashing in the pool, shelling on the beach, and paddling through the backwaters – these are actually winter water activities in Naples Southwest Florida. Forget shoveling snow, wearing layers and layers of warm clothes, and battling ice on your windshield. Naples and Southwest Florida offer year-round fun on and in the water. Whether you are a snorkeler or boater, there are numerous amounts of activities you can take advantage of when living (even part-time) in beautiful Naples.
For boaters, there are the peaceful protected backwaters as well as the wide-open Gulf of Mexico. For those not owning boats, but would like to rent, there are plenty of local companies from Marco Island and Port of the Islands up through Naples and Ft. Myers, that you can rent pontoons, offshore, or deck boats. If you are not comfortable taking a boat out on your own, there are private charters as well as larger boats and catamarans that will take you out for daily and sunset cruises. The Naples Bay Water Shuttle is a convenient hop-on, hop-off option, stopping at restaurants and shops along the Naples waterfront.
Southwest Florida is home to some of the best fishing in the United States. Enjoy deep-sea fishing in the Gulf of Mexico for catching snapper, grouper, or lionfish. Go out to Lake Trafford in Immokalee for bass, bluegill, and crappie.  Troll the backwaters of Marco Island and Ten Thousand Islands for shallow-water game fishing.
Throughout the Everglades, Marco Island, Naples, and Bonita Springs, there are many launch sites for canoes, kayaks, and paddle boards. Many people prefer the slower pace and exercise, as well as seeing some of South Florida's birds and water wildlife.
For those more adventurous, the Sanibel Causeway is a great spot for kiteboarding which can also be done off most of Collier County's beaches. Once in a while, you will even see someone parasailing, usually from one of the larger hotels like the Ritz Carlton.
For something unique to Florida, try swamp trekking. Whether on a swamp buggy or airboat, you will see and learn about the ecosystems and the wildlife that thrives in the Everglades. Several companies like Wootens and Everglades Excursions have been in business for decades and offer additional attractions like animal sanctuaries and tours of historical areas.
Just off the coast of Naples and Marco Island are many (40+) man-made reefs. Divers and snorkelers will be amazed at one of the largest artificial reef complexes in the Western Hemisphere. There are several local dive outfitters, as well as scuba diving charters that will take you out with local pros.
Locals love jet skiing, in the Gulf of Mexico, the lazy backwaters, and throughout the Ten Thousand Islands. Rentals can always be found at the larger hotels on the beach and in Marco Island.
Those who love the water, but do not necessary like being "in" the water; shelling might be just the activity for you. Early morning walks along the coast provide countless opportunities to pick up beautiful and unique shells, especially after a storm with heavy waves. Empty shells and dried out sand dollars are allowed to be collected. There are hefty fines for those who take a seashell containing a living organism or a living sand dollar or starfish. The only exception would be those having a Florida recreational saltwater fishing license.
And finally, for more water activities in Naples, don't forget about the spectacular Sun-n-Fun Lagoon in Naples, and Sunsplash in Cape Coral, two of the largest waters parks in Southwest Florida. Of course, the parks and recreations division in both counties manage small water parks and pads throughout Southwest Florida.