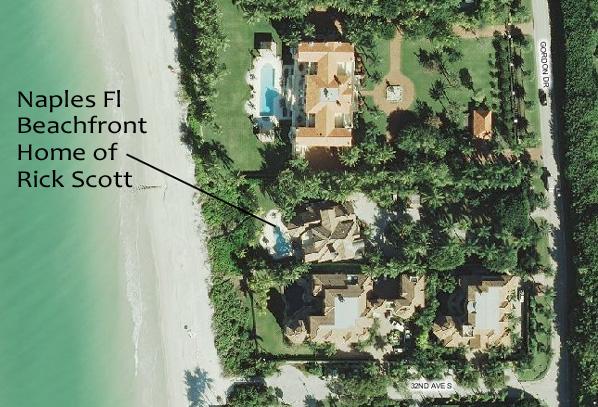 Governor of Florida, Rick Scott, lives in the luxury, coastal, Port Royal community in Naples Florida at 3150 Gordon Drive, Naples Fl 34102.
Collier County Tax records show that the home is owned by Scott, Richard L & F Annette, Rick Scott's wife. The multi-million dollar home in 2014 was valued as follows:
Address: 3150 Gordon Drive, Naples Fl 34102
Land Value: $12,000,100 (Check current Values)
Improved Value: $3,387,693 (Check current Values)
Market Value: $15,387,793 (Check current Values)
The Taxable value of this waterfront single family home was almost nine million, five hundred thousand dollars. The home sits on 1.54 acres on the beach, with 32nd Av South, a public beach access road, with metered parking lots, to its south.
This is the 2014 Governor of Florida Rick Scott's mansion in Naples Florida located on millionaires row Gordon Drive in the Port Royal community. In 2010 Richard Lynn "Rick" Scott ran for Governor of Florida and after dumping millions of his personal wealth into the race, won over the hearts and minds of conservative Floridians.
OUR INVENTORY OF HOMES FOR SALE IN PORT ROYAL NAPLES FL
Take a look at the Housing Market for Rick Scott House in Port Royal.
Read the blog on "An age of blatant Antisemitism in Naples?" a short story about Port Royal Naples.