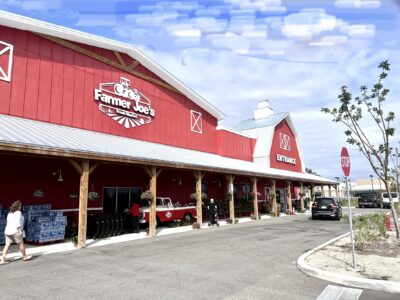 Farmer Joe's Market is a popular destination for locals and tourists alike in Cape Coral, Florida. This farmer's market, located at 13971 N. Cleveland Ave, offers a wide variety of fresh produce, meats, seafood, baked goods, and other specialty items. The huge red barn greets you from afar, with an old-time red farm truck parked right outside the entrance, you feel like you are walking into a true farmer's market.
One of the most notable features of Farmer Joe's Market is its commitment to locally sourced and organic products. Many of the vendors are small-scale farmers from the surrounding area, offering a unique selection of seasonal fruits and vegetables. In addition, the market features organic meats, cheeses, and eggs, as well as gluten-free and vegan options for those with dietary restrictions. One of the standout departments at Farmer Joe's Market is the seafood stall, offering fresh catches from the Gulf of Mexico. Visitors can choose from a variety of fish, shrimp, and other seafood, with knowledgeable staff on hand to provide cooking tips and recipe ideas.
Farmer Joe's has the added convenience of fresh prepared food, so if you are in a rush, it is the perfect place to just run in and pick something up. They always have plenty of friendly staff on hand to answer your questions or to quickly check out your order.
Another draw of Farmer Joe's Market is its lively and engaging atmosphere. Visitors can enjoy special events throughout the year, like photos with the Easter Bunny, or monthly wine tastings while they shop, adding to the festive and community-oriented vibe. The market also hosts special events throughout the year, such as holiday markets and cooking demonstrations, further enhancing the experience for visitors.
Overall, Farmer Joe's Market is a must-visit destination for anyone in the Cape Coral area looking for fresh, local, and organic produce and other specialty items. With its vibrant atmosphere and commitment to supporting small-scale farmers and businesses, it's no wonder that this market has become a beloved fixture in the community.