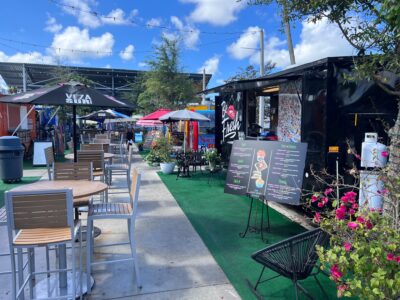 Celebration Park is a vibrant outdoor destination in the heart of Naples, Florida. This waterfront park offers visitors a unique experience with its array of food trucks, live music, and stunning views of the bay.
The park opened in 2019 and has quickly become a favorite among locals and tourists alike. One of the main attractions is the food truck lineup. The park features a rotating selection of trucks offering a variety of cuisines, from seafood to tacos to vegan options. Visitors can grab a bite to eat and enjoy their meal at one of the many picnic tables scattered throughout the park. In the center, you will find a four-sided full-service bar overlooking the water.
In addition to the food trucks, Celebration Park hosts live music events throughout the week. Local musicians perform on the park's outdoor stage, creating a lively atmosphere for visitors to enjoy. The park also hosts special events, such as movie nights and holiday celebrations.
One of the unique features of Celebration Park is its location on the water. Visitors can take in the beautiful views of Naples Bay while enjoying their food and entertainment. The park has a dock for boaters to tie up and enjoy the park as well.
Celebration Park has received high praise from visitors, with many calling it a must-visit destination in Naples. The park's relaxed atmosphere and variety of offerings make it a perfect spot for a casual night out or a weekend outing with friends and family.
Looking for a special venue for a private event? Celebration Park can be reserved for small parties or you can rent out the entire park which will easily accomodate 500 guests. From birthdays and anniversaries to weddings and fundraising events, they will make your special occasion fantastic.
Recently added parking nearby has made accessibility much easier during busier times.
Whether you're a local or visiting from out of town, be sure to add Celebration Park to your list of must-visit spots in Naples.