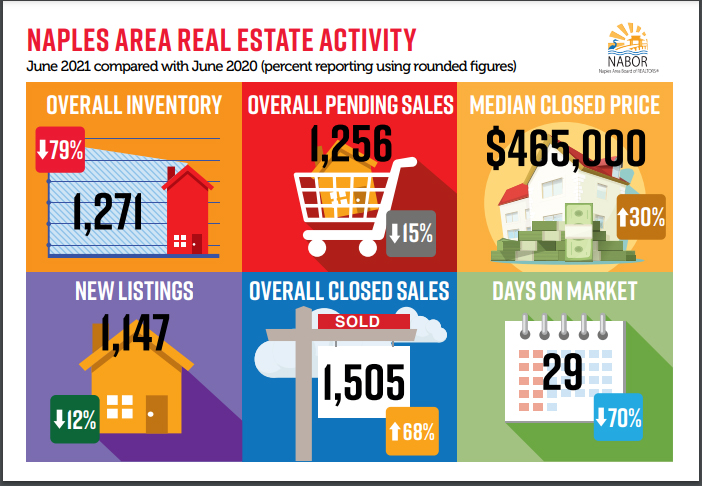 Thinking of looking for homes for sale in Naples, FL? With an all-time low of real estate inventory available, Naples has just a one-month supply of homes. The pending sales in the Naples area housing market has decreased over 14% from June of 2020 to June of 2021. This means less properties are changing hands because less properties are available.
There is no question of the demand, thousands of buyers are trying to get into the Naples real estate market, but cannot compete with so few properties available. The wild housing market that began about a year ago – peaking in March – is now decelerating and being replaced with a new level of activity that reflects improved market equity for sellers and sustained buyer interest from people seeking permanent residency. Though the numbers are low, the inventory is turning over every day. New listings come on to the market daily, so buyers should continue their search instead of giving up hope. The buyers of today must be prepared to move quickly, having their finances in order and ready to present.
Looking at the comparison from June of last year to this year, inventory decreased nearly 79% – from 6,003 homes to just 1,271. Historically, new listings are usually lower in the summer, and this year was no exception. But what stands out, is that in the first six months of 2021, new listings increased nearly 10% over last year. Sellers have been taking advantage of the buyers wanting to be in Southwest Florida; they are getting increased prices, multiple offers and less contingencies. This climate is great for the sellers, not so much for the buyers.
When the real estate market took off a year ago in June, Naples had just over a 7 month supply of homes. As a result of the incredible sales this past year, Naples barely has a one month supply of homes. Still, closed sales are up nearly 68% over last year for the month of June. Sellers are most definitely taking advantage of the current market and selling high, fast and with no contingencies. Buyers demands have gobbled up the inventory and the listings cannot keep up with the sales.
Another change in dynamics has been that properties are selling at 99.4% of their list prices, which indicated buyers are willing to pay at or above asking, but not dramatically more. In addition, nearly 60% of real estate transactions are in cash, which is surprising being that interest rates are at record lows. Buyers want their offers taken and financing just gets in the way.

More people than ever are making Naples FL their full-time residence, whether for the value, financial stability, great tax benefits or weather, they have driven the median price up over $100,000 from June of last year. The median closed price in June increased 30.3 percent to $465,000 from $357,000 in June 2020. However, for the 12-months ending June 2021, the median closed price for condominiums over $2 million actually decreased 9.4 percent. Sales of condominiums during June skyrocketed 98.7 percent to 767 closed sales of condominiums from 386 closed sales of condominiums in June 2020.
If you are looking to buy or sell a home in Naples, contact me at LindaGinsberg(at)icloud(dotted)com.