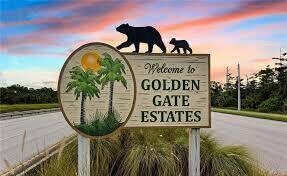 Considering vacant land in Naples Collier County? Known for its multi-acre homesites, Golden Gate Estates in Naples offers an incredible opportunity to live in Southwest Florida with no HOA fees. Lenient restrictions and lots of space for gardening, animals, and motorized toys, Golden Gate Estates might be the perfect area. Residential lots from 1.14 acres and up are being sold from $30,000 up to $700,000 an acre. That is not a typo! What could possibly make that great a difference for such a huge range in price? Is the land in Golden Gate Estates upland or wetland?
Of course, the location is first and foremost. Lots that are "closer-in", meaning farther west, are sold at a premium. The number of continuous acres being sold also raises the price per acre. And finally, is the land in Golden Gate Estates wetland or upland.
Wetlands are areas that are inundated by water so frequently that only vegetation typically adapted for saturated soils grow and flourish. Uplands are high and dry and are much more easily buildable. Lots can actually have both uplands and wetlands. Depending on the percentage and the location within the lot, determines if the lot is easily buildable or not.
When considering a lot for purchase, it is imperative that during the due diligence period, you establish the wetland/upland status. This is done by checking the Florida Department of Environmental Protection's (FDEP) website to see if a determination has been done. These reports are usually public information. If a property does not yet have a determination, one can be obtained through a private environmental consultant, Collier County, or the FDEP. If either a private consultant or Collier County finds, through an Informal Wetland Determination, that the property contains wetlands, you will need to go to the FDEP for permitting impacts to wetlands.
If a property is found to have wetlands and you plan on clearing, filling, or digging, you will first need to obtain a permit from the FDEP for wetland impacts. The state agency has jurisdiction over wetlands for residential lots. They can be reached at 239-344-5600.
When applying for a building permit, you will have to provide a wetland determination. If a building permit site plan shows wetland impacts might occur, you will have to provide a copy of the FDEP wetland permit clearly showing that all construction will be away from the wetlands.
Some helpful contact information is: Florida Department of Environmental Protection 239-344-5600. To look up a Collier County property, have the property ID number to see if a report already exists. www.dep.state.fl.us/south/ERP/CollierDeterminations/CollierCounty.htm.
Another great informational site is: https://colliercountyfl.qscend.com/311/knowledgebase/article/16499